The Urgent, Clear Choice For Gay Voters: Obama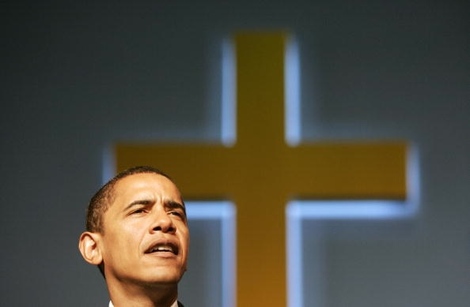 This is telling to me:
An interesting moment came when he was asked a question about LGBT rights and delivered an answer that seemed to suit the questioner, listing the various attributes race, gender, etc. that shouldn't trigger discrimination, to successive cheers. When he came to saying that gays and lesbians deserve equality, though, the crowd fell silent.

So he took a different tack: "Now I'm a Christian, and I praise Jesus every Sunday," he said, to a sudden wave of noisy applause and cheers.

"I hear people saying things that I don't think are very Christian with respect to people who are gay and lesbian," he said, and the crowd seemed to come along with him this time.
To hear someone defend gay and lesbian dignity and equality from a Christian perspective and to do so in the context of a largely African-American crowd, is much, much more than any candidate for the presidency has ever done. It's a break through. If it were just words, it would be one thing. But he has now done this repeatedly in front of black crowds, when he didn't have to. And he has put his specific commitments in writing in an open letter.
It's time to be candid about this - because gay voters, in my judgment, could make the difference in Ohio and Texas and Vermont and Rhode Island. There are very large gay communities in Texas' cities, and Ohio has the sixth largest gay community in the country. A plea: Do not sleep-walk into that voting booth with vague good feelings about the Clintons. Walk into that booth with eyes open and see what gay people have in front of them.
Now you may have many reasons not to vote for Obama, and no gay voter should vote on one issue. But solely with respect to gay matters, there is simply no choice here. Obama's positions, candor, courage, generation and religious embrace of us are dispositive.
Yes, the McClurkin flap was poorly handled and a casualty of the usual gay-straight tensions in the African American south. But it is overwhelmed by Obama's clear support and understanding of gay people and willingness to support our dignity at times and in places where others have not. I've seen it unprompted in private and unapologetically in public. I never saw it in the Clinton years, and Clinton herself is a victim of the defensive crouch that has immobilized progress at the national level for a decade or more. The current Washington set-up is broken. If you haven't seen that these past few years, you have blinders on. It doesn't deliver - and won't, without a president who actually believes that gay people deserve full equality. Yes, it's partly generational - Obama sees gay people in a way Clinton never will, as a function of her age and background. But it's also, it seems to me, an indication that he really is a Christian. One day, it will seem as obvious that Christians should support gay equality as it is now obvious that they should have opposed segregation. What Obama does for gay people in a religious context is just as important as what he does for us in a political one. Both are vital - because it is the abuse of religion that is at the core of the hostility to gay dignity.
What Obama is doing on the gay issue has the potential transform it and help us as a society to move past it. No, he's not a savior. No, we shouldn't expect miracles. No, we should never delegate the work of our equality to anyone else. We, after all, are the ones we've been waiting for. But within the Democratic contest, the case for backing Obama at this point in time is, to my mind, urgent, vital, historic.
Gay Americans must not throw this chance away.
(Photo: Jeff Haynes/AFP/Getty.)