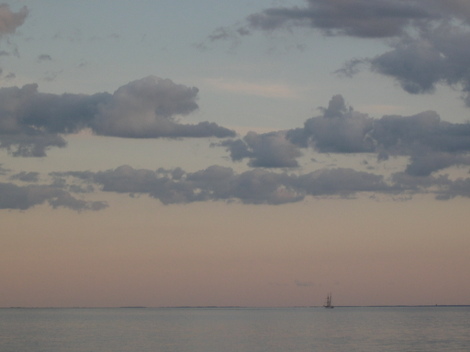 Today marks the one year anniversary of this blog's residence at the Atlantic.com, after one year at Time.com and six years of total independence. I'm really grateful to all of you who've stuck with the blog through thick and thin through what is now its eighth continuous year. The last six weeks have been particularly nuts, as the campaign has taken off and I decided to go balls-to-the-wall until this primary season is over. Yep: I put up around 1,600 separate posts in the past month. Forgive me if I'm a bit bleary.
Th Atlantic has allowed me to have a home with real support, fellow-bloggers and writers to cavort with, wonderful editorial guidance with no editorial veto, a now full-time assistant, and a bevy of interns tracking down and highlighting a variety of new blogs, sources, and sites to mine for bloggy nuggets and insight. Video and photography and reader contests have all added to the mix, and I'm hoping to experiment some more in the year ahead. It sounds like a suck-up, but I couldn't have found a better home. I always knew it was an honor to be welcomed into a magazine with the history and reputation and staff of the Atlantic. I had no idea it would be such a blast as well.
We've also soared in traffic. The Dish garnered around 25 million page views in my year at Time. It has racked up a little shy of 40 million page views in the first year at the Atlantic. The last month was almost double our previous record - with 7.6 million page views in January 2008 alone. On Technorati's list of linked blogs, the Dish has leaped up the chart. Thanks for reading, emailing, nudging, caviling, complaining, praising, forwarding, and suggesting. And the beat goes on ...