By focusing on waterboarding, we can sometimes forget that the other "alternative techniques" for "enhanced interrogation" are also forms of torture, even when they leave no permanent marks, or, in the words of AEI's John Yoo, do not cause major organ failure. The term "stress position" for example, when uttered by someone like Rush Limbaugh, who described some of what happened at Abu Ghraib as nothing more serious than fraternity hazing, can seem banal, even defensible. These positions, which the president strongly supports, can nonetheless become very quickly hideous acts of cruelty. Here's a photo of what the Nazis called Pfahlbinden.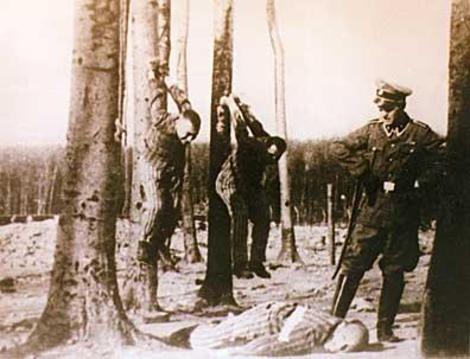 You can seen that individuals are contorted just by the weight of their own bodies into positions of excruciating pain that lasts until it is unbearable. In this picture, it does not appear that the methods are being used to interrogate. They are being used for sadistic purposes. They are worse thah the 'stress positions" we have evidence of in US custody because the Nazi prisoners were literally suspended in the air, their feet barely touching the ground.. But the victums of US stress positions were chained to fixtures and wall with hands chained above and behind the head, with feet barely on the ground. They had a tiny  bit more support for their feet, but it often made the procedure longer and in end, therefore, more painful.
When you hear a banal phrase like "stress position", and hear people dismiss it, remember that everything is in the doing. And when human beings are given total control over others, they are capable of great evil. Sane and civilized societies do not give permission for such things. And they do not make excuses for them. And when they discover they have been done, they investigate and prosecute those who broke the law.