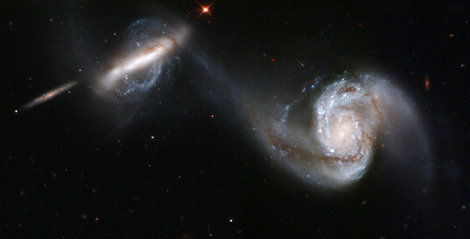 In the heat of a primary campaign, it's worth getting a little perspective, with the help of a Hubble photograph released yesterday by NASA, and sent me by a reader:
Two galaxies perform an intricate dance in this new Hubble Space Telescope image. The galaxies, containing a vast number of stars, swing past each other in a graceful performance choreographed by gravity.

The pair, known collectively as Arp 87, is one of hundreds of interacting and merging galaxies known in our nearby universe. Arp 87 was originally cataloged by astronomer Halton Arp in the mid 1960s. Arp's Atlas of Peculiar Galaxies is a compilation of astronomical photographs using the Palomar 200-inch Hale and the 48-inch Samuel Oschin telescopes.

The resolution in the Hubble image shows exquisite detail and fine structure that was not observable when Arp 87 was first cataloged in the 1960s.