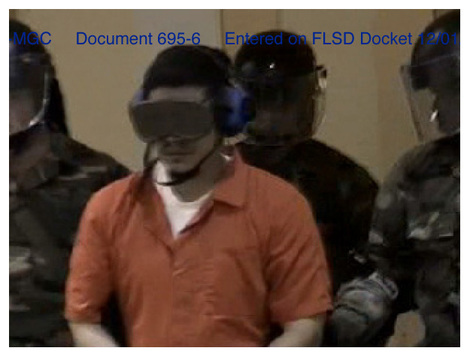 Just filed:
Defendant John Yoo, along with other senior officials, deliberately removed Mr. Padilla from due process protections traditionally available to U.S. citizens detained by their government and barred all access to the outside world, including access to counsel.  On information and belief, Defendant Yoo and other senior officials then personally formulated and/or approved and/or failed to act upon actual or constructive knowledge of, a systematic program of illegal detention and interrogation, which was specifically designed to inflict, and did inflict, severe physical and mental pain and suffering on Mr. Padilla for the purpose of extracting information from him and/or punishing him without due process of law, and which proximately caused the harms to Mr. Padilla alleged herein...   
Defendant Yoo personally provided numerous legal memoranda that purported to provide to senior government officials a legal basis to implement an extreme and unprecedented interrogation and detention program – even though such tactics are unprecedented in U.S. history and clearly contrary to the U.S. Constitution and the law of war.

# Mr. Padilla suffered and continues to suffer severe mental and physical harm as a result of the forty-four months of military detention and interrogation that he endured, detention and interrogation for which Defendant Yoo personally purported to provide a legal blank check.

# Ms. Lebron was also injured by the conduct of the Defendant, which caused her to be deprived of the virtually all contact with her son, Mr. Padilla, for the duration of his illegal detention and interrogation, in violation of her constitutional rights to familial association and communication.

# Plaintiffs Padilla and Lebron assert this complaint against Defendant John Yoo in his individual capacity.