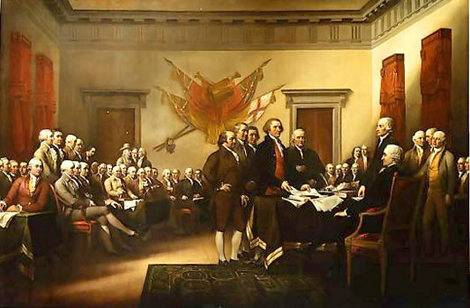 A reader writes:
In Quote for the Day III you ask, "Does anyone think that Jefferson was too inexperienced when he wrote that phrase?", referring to that most famous line in American letters: "We hold these truths to be self-evident…"

Well, I don't know if Jefferson was too inexperienced, but he didn't write that phrase--at least, not exactly. Franklin did. This quote from Walter Isaacson's "Benjamin Franklin: An American Life":

"On June 21, after he had finished a draft and incorporated some changes from Adams, Jefferson had a copy delivered to Franklin, with a cover note far more polite than editors generally receive today. "Will Doctor Franklin be so good as to peruse it," he wrote, "and suggest such alterations as his more enlarged view of the subject will dictate?"

Franklin made only a few small changes, but one of them was resounding. Using heavy backslashes, he crossed out the last three words of Jefferson's phrase, "We hold these truths to be sacred and undeniable" and changed it to read: "We hold these truths to be self-evident."

The concept of "self-evident" truths came less from Jefferson's favored philosopher, Locke, than from the scientific determinism of Isaac Newton and the analytic empiricism of Franklin's close friend David Hume. Hume had distinguished between "synthetic" truths that describe matters of fact (such as "London is bigger than Philadelphia" ) and "analytic" truths that are self-evident by virtue of reason and definition. ("The angles of a triangle equal 180 degrees" or "All bachelors are unmarried." ) When he chose the word "sacred," Jefferson had suggested intentionally or unintentionally that the principle in questionthe equality of men and their endowment by their creator with inalienable rightswas an assertion of religion. By changing it to "self-evident," Franklin made it an assertion of rationality."

Maybe it did take someone with Franklin's yearsand scientific interestsand experience--to write that phrase. It was, simply, genius. Jujutsu. With one word"self-evident"Franklin forever clarified the divide between received and rational truth, and placed our political system firmly on the foundation of our common rationality rather than on sectarian faith (and all faiths, even the most popular, are by definition sectarian). It's a phrase--a word--that we might profitably ponder again today. Franklin was not editing the Declaration--he was editing our minds.

"We hold these truths to be self-evident..." Has there ever been anything written more politically empowering than that? Truth is self-evident. Our freedom is founded on that proposition. Our democracy is too. And when truth that is not self-evident is forced on us by one faction or another, we must resist.

Oh yes, Obama. You were defending him against the charge of "inexperienced" in this post, weren't you? Well, he's no Franklin--yet. But then, at age 33, neither was Jefferson.