The Enduring Strength Of Huckabee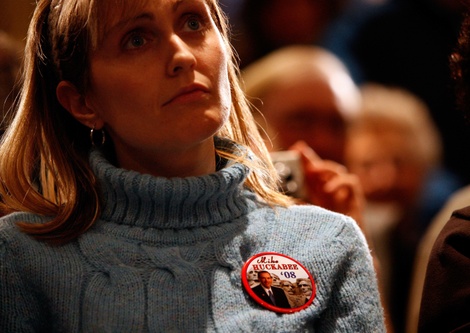 The conservative and Republican establishment have unloaded everything they can against the guy. But he's still the likeliest winner in Iowa, and his potential to knock Romney off his gilded perch is powerful. I'd say that if Huck wins Iowa and Romney seems badly wounded, then McCain has a real shot in New Hampshire. If Romney cannot win Iowa after pouring all that money into it and cannot win his neighboring state, it's hard to see him as electable. Maybe Giuliani could then have his moment. I can't remember any race being this fluid, but I wouldn't under-estimate Huckabee's appeal to the religious movement that is now the core of Republicanism:
Iowans really like him; his personal attributes are megavolts more powerful than any of his rivals; his unvarnished evangelical worldview is enough.

Owen Walker, a farmer from Indianola, became a convert today. "He's got.. he's got heart. He's a good man," he said. A fundamentally decent guy. "A down to earth person who we're going to be able to trust."

His friend, Jim Meadows, told me: "When I really came to realize that he'd be a good candidate is when he demonstrated during the debates that he showed a lot of wisdom in the way he answered the question. The man is a genuine next-door neighbor type."
(Photo: A supporter of Republican presidential hopeful Mike Huckabee wears a campaign button as he speaks during a 'Meet Mike Huckabee' event at a Pizza Ranch restaurant December 28, 2007 in Pella, Iowa. By Justin Sullivan/Getty Images.)