Ron Paul's Favorite Super-Hero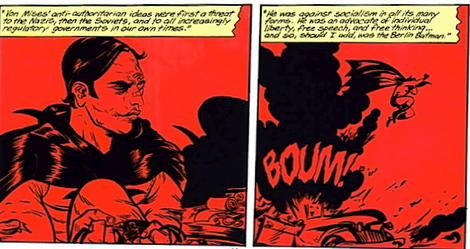 Batman, of course. Here's Ron's reasoning:
"My favorite comic book superhero is Baruch Wane, otherwise known as Batman, in The Batman Chronicles.  "The Berlin Batman," #11 in the series by Paul Pope, details Batman's attempts to rescue the confiscated works of persecuted Austrian economist, Ludwig von Mises, from Nazi Party hands.

"Batman's assistant Robin writes in the memoirs, "[Mises] was an advocate of individual liberty, free speech, and free thinking... and so, should I add, the Berlin Batman." Batman, a Jew in hiding in Nazi Austria, was willing to risk his life for the sake of the promulgation of freedom, and I find this to be super-heroic."
It's all about von Mises! I think this post is even nerdier than the Kant attack ad.