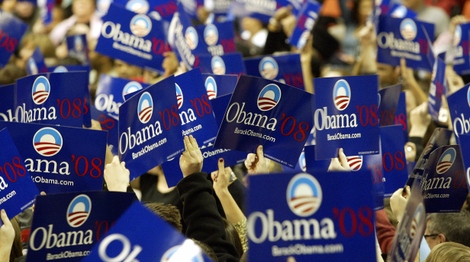 At least that's what it looks like in the latest DMR poll: Obama 32, Clinton 25, Edwards 24:
In an indication of the Obama's appeal in Iowa, Democratic caucusgoers say they prefer change and unity over other leadership characteristics. Selecting a candidate who represents a sharp departure from the status quo is 56-year-old Lansing Democrat John Rethwisch's priority, and his main reason for backing Obama.

"I have been seeing more and more something Kennedy-esque coming from Obama," said Rethwisch, Lansing's water and sewer administrator. "But it's always a gamble when you get somebody in there who hasn't got a proven track record."
More important is how Obama is winning - by appealing beyond core Democrats:
Clinton remains the favorite of the party faithful, with support from a third of self-described Democrats. However, Obama is the clear choice of caucusgoers who affiliate with neither the Democrat or Republican parties, with roughly 40 percent of them backing him in the survey.

The support from non-Democrats is significant because a whopping 40 percent of those planning to attend described themselves as independent and another 5 percent as Republican.
Obama wins the base and the center and right. If he can do that in a primary, think about what he could do in the general. Or New Hampshire. For the GOP, Huckabee also has a bigger lead in the poll than he has recently. Romney is still sweating, despite his barrage of ads. And McCain is coming up fast at 14. And Ron Paul is in fourth place! If Paul gets in the top four in Iowa, how will Fox keep him out of the New Hampshire debate?
Know hope.
(Photo: Jeff Haynes/Getty.)