Hope, Fear, Young And Old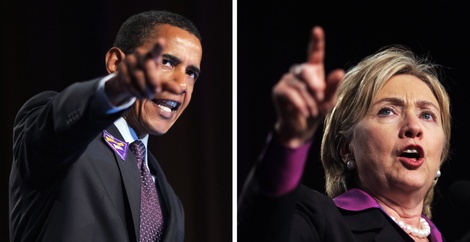 It's neck and neck between Clinton and Obama in New Hampshire and Iowa. And here's a fascinating glimpse of the choice:
The poll finds a divide in support for Clinton and Obama among age groups, with about two out of five voters age 18 to 44 in both states saying they favor Obama and about the same margin of Democratic voters age 65 and above backing Clinton, though Edwards gets a similar margin of support from that group in Iowa.

Furthermore, Clinton continues to hold onto support from older women. In Iowa, she gets 43 percent of the vote from women age 45 and over, twice as much as Edwards and Obama. The numbers are similar in New Hampshire.
It's between the older generation versus the younger; those afraid of the Republican machine and those who want to transcend  that bitter struggle. I liked this rationale for Clinton:
"You can't sit across the table from somebody all those years and not talk business," says Klenske, 81. "If you're a farmer's wife you pretty much know as much about operating a farm as your husband does."
This is what Clinton does for feminism. She makes it indistinguishable from nepotism.
(Photo: Mandel Ngan/AFP/Getty.)