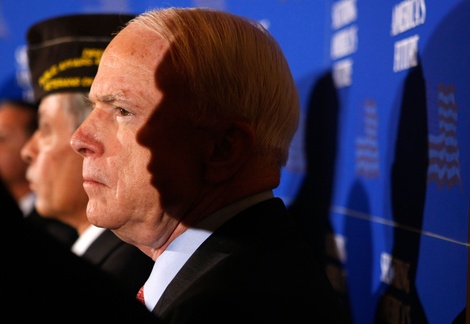 It seems absurd to think of the domestic campaign ramifications, but my gut tells me this helps McCain. If you look at the GOP field and you ask yourself who would you want in the White House right now, McCain leaps out at you as the one with the experience and the judgment to deal with this. On the Democratic side, it's not so obvious, since Clinton's "experience" is much less than meets the eye. But it helps her nonetheless. Novak, meanwhile, is touting McCain:
Sen. John McCain, given up for dead a few weeks ago as he ran a cash-starved, disorganized campaign, today is viewed by canny Republican professionals as the best bet to win the party's presidential nomination. What's more, they consider him their most realistic prospect to buck the overall Democratic tide and win the general election. Indeed, if Mike Huckabee holds on to actually win the Jan. 3 Iowa caucuses, the road forward could be clear for McCain.
RedState's Erick chimes in here.
(Photo: Alex Wong/Getty.)