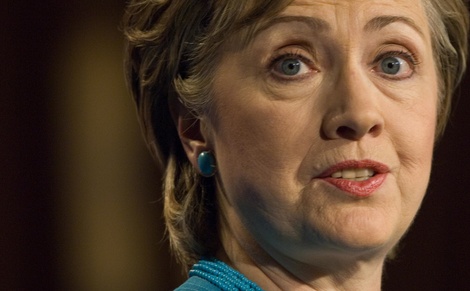 And what else do they do? They play the gender card. Her chief apparatchik, Mark Penn, said in the conference call today that
criticisms from Sen. Barack Obama (D-Ill.) and former Sen. John Edwards (D-N.C.) would backfire and that he was already "detecting some backlash," particularly among female voters.

Those female voters are saying, "Sen. Clinton needs our support now more than ever if we're going to see this six-on-one to try to bring her down," Penn told those on the campaign call...

Gerald McEntee, AFSCME's president, mentioned the debate during his endorsement speech, and took Penn's and Mantz's view of the results.

"Some of you may have seen last night's debate," McEntee said. "Six guys against Hillary, and I'd call that a fair fight. This is a strong woman."
Gail Collins picks up the meme this morning:
Hillary Clinton stood on a stage for two hours Tuesday night, being yelled at by six men. Now this is what they mean by pressure... She took it all and came out the other end in one piece. She's one tough woman. Kudos... [Y]ou do have to give her a few points for not letting the guys push her around.
Er: she did let the guys push her around, got rattled, and revealed the fact that her candidacy is pure calculation. No points. But, more importantly, this line of defense is deeply sexist. You can't say that Clinton's gender is irrelevant in the political campaign and then give her points for not fainting under the pressure of male criticism. Can you imagine anyone ever saying that Margaret Thatcher should have gotten points for withstanding the parliamentary barracking she got on a regular basis - because a woman isn't expected to be able to stand up against a bunch of men? Please.
And then you realize that Clinton's flacks don't even believe in the ability of women to be involved in politics without apology, excuse or cheap and easy invocation of the female defense. They use feminism the way they use everything else: as a tool to gain personal power. What's next? Congratulating her that she didn't burst into tears? And can we please retire this hideous "Hillary" thing? She's Senator Clinton. And she can't play the gender card both ways.
(Photo: Mannie Garcia/Getty.)