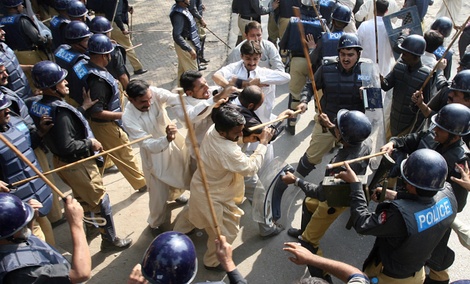 I confess to being somewhat stumped by recent events in Pakistan. It seems to me that the last thing we should learn from the past six years is that we should always be supporting democracy regardless of the consequences in the Muslim world. But obviously, Musharraf's increasing and now total abandonment of democratic pretense runs the danger of actually increasing the popularity of Islamists in his country. Musharraf has, moreover, failed rather conspicuously, in reining in the terrorists in Waziristan. Now run the "wth us or against us' check list: Pakistan has weapons of mass destruction, an Islamist insurgency, and a base for al Qaeda on its territory. And yet we do very little. And we can do very little.
It's easy to mock the discrepancy between the Bush Doctrine and Bush Policy under these circumstances. But I don't see any happy or easy alternatives right now. Meanwhile, this recent Josh Hammer primer from the Atlantic is worth a look. Larison adds his a couple of cents here. The Economist makes a useful point:
The coup that General Pervez Musharraf, the country's president, launched on Saturday November 3rd, was in fact something new. His first coup, in 1999, was designed to restore order after civilian misrule. Now General Musharraf wants to shore up his own unpopular, and perhaps illegal, government.

He has suspended the constitutiona step the government has inaccurately described as constituting a state of emergencyand sacked most of the Supreme Court's judges. This includes the chief justice, Iftikhar Chaudhry, a champion of swelling opposition to the general. The courthouse in Islamabad is now sealed off by barbed wire and armed police. Private television news channels, foreign and Pakistani, have been hauled off-air.
So does Der Spiegel:
Most observers agree that Musharraf's move had little to do with the growing threat from Islamic militants and everything to do with a last-ditch effort to hang on to power. With the country's Supreme Court set to rule this week on the constitutionality of his re-election as president last month, rumors had been circulating that the court, led by Chief Justice Iftikhar Chaudhry -- whose firing in March was the beginning of a rapid decrease in Musharraf's popularity -- would rule against Musharraf.
My concern is that we simply do not know what serves the interests of Islamists at this point: Musharraf's continuation in power or a period of more democratic instability? And does this change in the short or medium term?
(Photo: Pakistani riot police beat a lawyer (C) during a protest in Lahore, 05 November 2007. Pakistani police fired tear gas and baton-charged lawyers rallying against President Pervez Musharraf's emergency rule, as the United States suspended key talks with its regional ally. Several lawyers were wounded and dozens more arrested as protests erupted outside courtrooms in a number of cities, in the first major show of public anger since Musharraf declared a state of emergency on 03 November. By Arif Ali/AFP/Getty.)