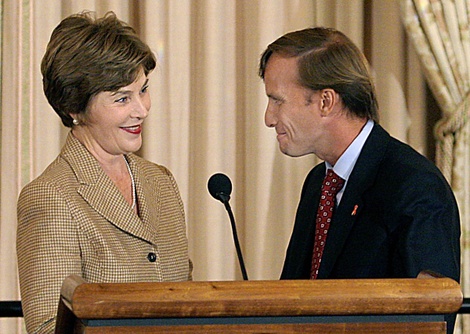 Mark Dybul is the Bush administration's Global AIDS Coordinator, and an openly gay man, much liked and respected, not least by Laura Bush and Condi Rice. He is also, alas, required to enforce the policies created by Jesse Helms almost two decades ago to hound, stigmatize and discriminate against anyone with HIV who is not an American and wants to visit, travel or immigrate to the US. Unlike every other civilized country, unlike even China, the US still retains 1980s-era policies that treat tourists and visitors with HIV as if they have malaria, barring them from ever coming in the country, or getting waivers that require them to provide invasive details on their health, be monitored by the government, be subject to deportation, and treated more brutally than anyone with any other medical condition. The other countries with the same policy: Iraq, Russia, Saudi Arabia and Sudan. Is that the company America really wants to keep? Is that part of the AIDS legacy the Bush administration wants to leave?
Jesse Helms himself eventually disowned the stigma he once placed on people with HIV; and the Bush administration, to its great credit, has done a great deal to help those with AIDS and HIV in Africa and elsewhere. But that makes retaining the Helms discrimination against visitors and tourists and immigrants with HIV that much more egregious.
People living with HIV are not public enemies; we are not carrying the equivalent of malaria. And at a time when the crisis of HIV is growing among African-Americans especially, the government's maintenance of a bitter stigma against the HIV-positive - declaring them in effect a threat to society and worthy of government surveillance - does immense damage to public health efforts trying to persuade people with HIV to feel less shame and access more care. On the eve of World AIDS Day, the Bush administration has now made things even worse: burdening tourists and visitors with HIV with more scrutiny than the average terror suspect. It's a grotesque waste of resources, and cruel, irrational public policy.
It's World AIDS Day tomorrow. How depressing that the US should seek to commemmorate it by ratcheting up persecution of people with HIV. We desperately need a repeal of the Jesse Helms law. In the meantime, there is a way to send the government a comment on the new, more draconian regulations. Details of how to help after the jump.
1) Go to www.regulations.gov
2) Click on All Documents with an Open Public Comment Period
3) In the little box that says "page," type in "39".   [Note: this page number may change as comment periods for other regulations close, if this is not the right page, look for the docket number alphabetically, it should be a page or two in front of or behind this one.]
4) Scroll down to Docket USCBP -2007-0084.  (The dockets are listed alphabetically.)  The subheading is Issuance of a Visa and Authorization for Temporary Admission Into the United States for Certain Nonimmigrant Aliens Infected With HIV.
5) Click on the folder icon in the column all the way on the right to submit comments.
Comments may also be submitted via snailmail to Border Security Regulations Branch, Customs and Border Protection, 1300 Pennsylvania Avenue, NW. (Mint Annex), Washington, DC 20229 and must include the docket, USCBP -2007-0084.
(Photo: by Karen Bleier/AFP/Getty.)