"Only One Republican Can End This War With Honor"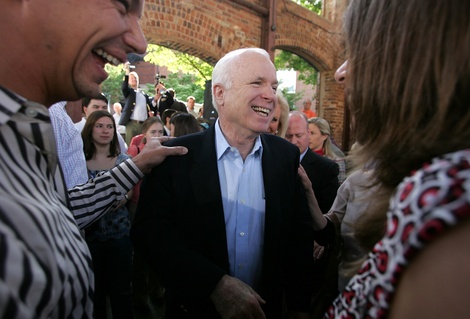 McCain looks better not just because he has stuck to his pro-war position while acknowledging painful reality, but because the others have increasingly looked so unnerving. Romney's plastic demeanour and say-anything style have not caught on outside the first two states where he has poured millions of his own money into blanket television advertising. Thompson has yet to seem a viable president. Giuliani's bizarre personal quirks and all-purpose, random hawkishness do not calm nerves in a very unstable world. Fellow Republican candidate Mike Huckabee is a jovial inheritor of Bush's spend-like-Jesus conservatism, but has zero foreign policy experience. And so . . . we come back to McCain.

It's obviously his turn. He was runner-up in 2000 and a loyal Bushie (through gritted teeth) in 2004. He's more reliably pro-life than any of the other big names; he is extremely well versed in foreign policy; and his integrity on the detention and interrogation question makes him the sole Republican president who could reassure the world that the US will not continue to torture prisoners. He's also able to appeal to independents in a way no other Republican can – except Rudy on a very good day.
One other core issue: climate change. McCain gets it. No one else does on the GOP side. If you take the IPCC seriously, and I see no reason not to, this matters a great deal. Compare two potential races next year: Clinton vs Giuliani or McCain vs Obama. One would bring out the worst in us; the other would move this country forward in desperately needed ways.
(Photo: Justin Sullivan/Getty.)