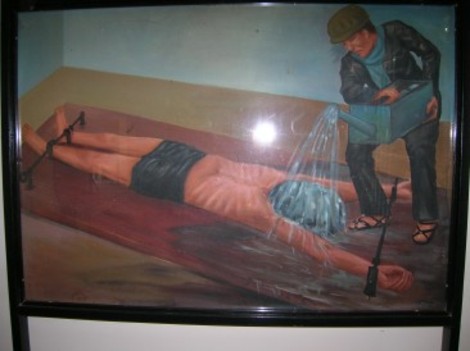 Here's a really helpful exchange, I'd say, on whether Michael Mukasey really does have a responsibility to say whether waterboarding is torture before he is confirmed as attorney-general. Ben Wittes wrote in defense of Mukasey's reticence in TNR. Marty Ledermam responds - to my mind persuasively - here. Money quote from Marty:
Which brings me to the final and most important reason why Judge Mukasey can answer the question -- even if DOJ does not provide him with the classified OLC memos. There may well be some ambiguities at the margins about whether and under what circumstances certain interrogation techniques amount to torture, to cruel treatment under Common Article 3, to or conduct that shocks the conscience under the McCain Amendment. After all, as Henry Hart stressed, even legal rules that appear straightforward contain seeds of ambiguity, and raise difficult questions of application. Does a "No Vehicles in the Park" law prohibit a baby stroller? A statute of a tank? Roller skates? Bicycles? A wheelchair? An ambulance? (See H.L.A. Hart, Positivism and the Separation of Law and Morals, 71 Harv. L. Rev. 593, 607 (1958); Lon Fuller, Positivism and Fidelity to Law--A Reply to Professor Hart, 71 Harv. L. Rev. 630, 663 (1958); Jeremy Waldron, Vagueness in Law and Language: Some Philosophical Issues, 82 Cal. L. Rev. 509, 537 (1994); Pierre Schlag, No Vehicles in the Park, 23 Seattle U. L. Rev. 381 (1999).)

Therefore, some interpretive principles are invariably necessary, and there will be close cases. That's true even of the Torture Act and Common Article 3's ban on "cruel treatment and torture."

But if, in parsing the "no vehicles" rule, one arrives at the conclusion that a souped-up Corvette may be driven through the center of the park, then that's a pretty good clue that you need to find yourself some new interpretive principles.
If a Corvette isn't a car, nothing is a car. And if waterboarding isn't torture, nothing is. Mukasey knows that waterboarding is torture and that the Bush administration has authorized it. If we are to expect the attorney-general to defend the rule of law and plain English, he needs to answer the question now.