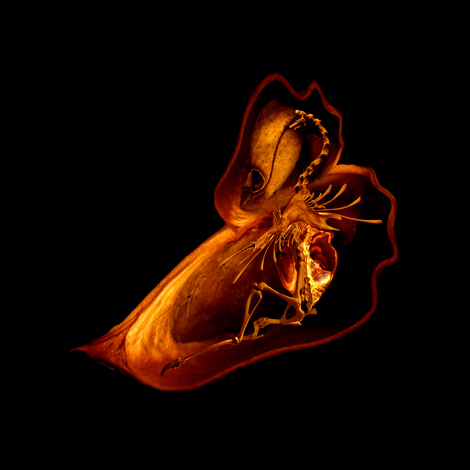 The photo above is made up of parts of dissected fish. It's by British photo-artist, Michael England, who is interviewed by Ping Mag here. Money quote:
Why are you so into dissection and rebuilding things? Any special experience in your childhood…?

Dissection isn't my only approach; I approach some work straighter than others. I came from a typographic and photographic background. As regards what has influenced the whole rebuilding thing, I guess, this would be LEGO: I spent years as a child rebuilding LEGO into what I wanted as opposed to following the instructions. I never really did any work on frogs or other creatures when I was young. I dont want to sound like some graphic Frankenstein nor morbid in anyway I really appreciate life, especially its beauty. Although i am not a vegetarian, I don't kill anything other than fly's and mosquito's.

Did you discover anything special through your production process?

When working in dissection mode, I think what I have discovered is that the most mundane elements offer real beauty when seen in detail, which is usually not noticed with the naked eye. In the rebuilding process you find that form is infinite and the context of the subject can be completely altered into something visually new. It can change conceptually as well.