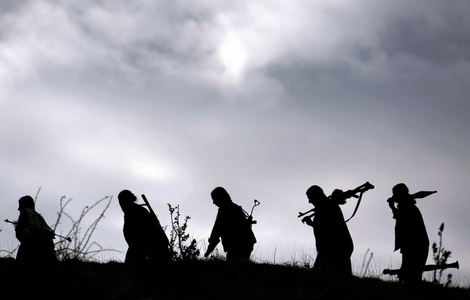 The Iraqi leader is helpless, apparently:
Asharq Al-Awsat: The Turkish Government wants you to arrest their leaders who are present on Iraqi territory.

Talabani: We cannot do that. How can we arrest the leaders who are present in the mountains and surrounded by thousands of men? The Turkish army, with all its power, cannot do that. How can we do it?

Asharq Al-Awsat: What, then, does Nuri al-Maliki mean by his comment about eradicating their bases?

Talabani: I do not think that this is accurate talk. The prime minister and I have the same view, namely, that we cannot send sufficient Iraqi forces to fight the PKK.
And so we head toward conflict. Drezner's response is roughly mine:
"We are this close to seeing the war in Iraq spread to the stable provinces of Northern Iraq..."
Meanwhile, this strikes me as obvious:
If the eight missing Turkish troops turn up in Kurdish hands - or worse yet, mistreated in Kurdish hands - the odds of a Turkish incursion (and the urgency of finding an American response to the PKK's campaign of provocation) will rise dramatically.
Could NATO be drawn in?
(Photo: This file picture taken 18 November 2006 shows Kurdistan Workers' Party (PKK) rebels walking a ridge during military exercises in the mountains of northern Iraq's Kurdish autonomous region. By David Furst/AFP/Getty.)