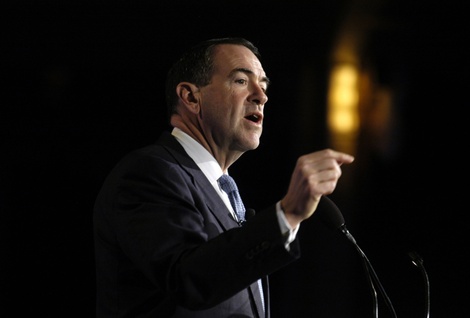 The American Spectator parts from the emerging CW:
Fourteen times, the state ethics commission -- a respected body, not a partisan witch-hunt group -- investigated claims against Huckabee. Five of those times, it officially reprimanded him. And, as only MSNBC among the big national media has reported at any real length, there were lots of other mini-scandals and embarrassments along the way.

He used public money for family restaurant meals, boat expenses, and other personal uses. He tried to claim as his own some $70,000 of furniture donated to the governor's mansion. He repeatedly, and obstinately, against the pleadings even from conservative columnists and editorials, refused to divulge the names of donors to a "charitable" organization he set up while lieutenant governor -- an outfit whose main charitable purpose seemed to be to pay Huckabee to make speeches. Then, as a kicker, he misreported the income itself from the suspicious "charity."
It's worth a read.
(Photo: Stephanie Kuykendal/Getty.)