Rumsfeld In Paris, Hit With Torture Charges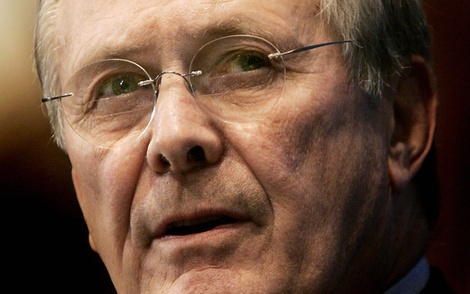 I've predicted this for a while, but it's the first real sign that many senior members of the Bush administration will have trouble leaving the country in future if they do not want to be arrested for war-crimes:
American and European rights groups filed a legal complaint in France accusing former US Defence Secretary Donald Rumsfeld of responsibility for torture in Iraq and at the US military prison in Guantanamo Bay, the groups said on Friday.

The New York-based Center for Constitutional Rights, the Berlin-based European Center for Constitutional and Human Rights and two Paris-based groups, the International Federation of Human Rights and the League of Human Rights, said they filed the complaint with the Paris prosecutor's office as Rumsfeld arrived in France for a visit.

The groups say their complaint could go forward because people suspected of torture can be prosecuted in France if they are on French soil. The complaint says Rumsfeld, in his former position as defence secretary, "authorized and ordered crimes of torture to be carried out ... as well as other war crimes."
Le Monde's story is here. Sooner or later, the men who authorized war crimes in the US will be brought to justice.
(Photo: Jim Watson/AFP/Getty.)