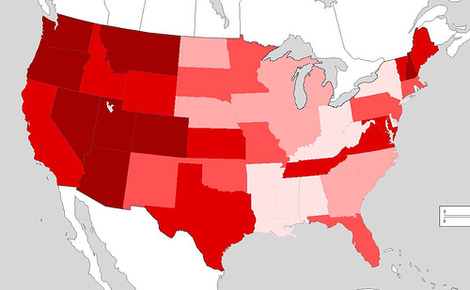 This is Patrick Ruffini's map of where Ron Paul is getting his money. The strength in the Mountain West is impressive, if unsurprising. The hostility of the South to his message of individual liberty is also no big whup. Stuart Benjamin notices how evenly spread Paul's money-base is compared with many others:
His campaign contributions are spread out quite evenly (he's done better in Texas than elsewhere, which is not surprising, but his Texas total is only three times his haul from the state of Washington and a bit smaller than funds from California). And his receipts come from all over. Indeed, and perhaps unsurprisingly, he does better in smaller states, which may have a higher percentage of people who lean libertarian. He has received more money from North Dakota, for example, than either Romney or Giuliani. You can decide for yourself whether this means we should consider him to be the only candidate with a true 50-state appeal, or the candidate for people in sparsely populated and over-represented (in the Senate) states.
Two interesting factoids: New Hampshire is first in donors per capita in the country. I think his support may be under-estimated in that state. The second surprise is that his second strongest "state" is Washington D.C., where a lot of disenchanted libertarian Republicans reside. Ahem.