"Once a voice of restraint and reason, Sullivan now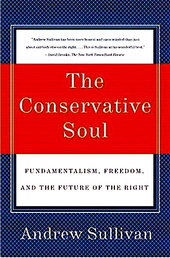 specializes in shrill panic: mercurial ranting full of operatic arguments, steeped in bad faith, aimed at people he once praised (including yours truly). There are many theories about what "happened" to Sullivan. They vary wildly in charity. But it's fair to say that for many conservatives, Sullivan has become the intellectual equivalent of a write-off... Which is why most conservatives won't buy, or read, his book," - Jonah Goldberg, National Review.

"Sullivan wants very badly to be described as a conservative, but he is no more a conservative than I am a Russian," - Hugh Hewitt.
You can buy the book Hewitt and Goldberg lambasted here.