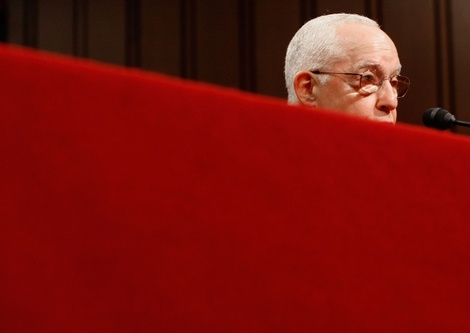 I understand Mukasey is supposed to be a reasonably good guy, by comparison with the run of Bush appointees.  But if Mukasey won't say that waterboarding is torture and claims that the President has some undefined power to violate statute law even criminal laws, such as the ban on torture and other war crimes under his "Article II powers," then why should the Senate Judiciary Committee even bring his nomination to a vote? If he says he hasn't read the latest torture memos or decided whether waterboarding is torture, Sen. Leahy ought to tell him to read the memos and observe a waterboarding session and come back when he's done his homework.
Matt calls him "completely unacceptable." Having read the testimony, I'm afraid I have to abandon my early hopes and agree. An attorney general who believes a president has a permanent right to ignore the rule of law because peacetime is now wartime for ever, is an attorney-general defending the rule of one man over the rule of law. If I were a Senator, (heh, indeed) I'd vote no. This is the faultline of our time. If we are redefining war as a permanent state of being, and redefining presidential authority to give him/her extra-legal and extra-constitutional power to what s/he wants anywhere in the world, including the United States and to its citizenry, then American liberty is in extreme peril. To approve an attorney general who does not dissent from this position is a terrible precedent.
Don't people see that this is what Cheney is doing? He is setting precedent after precedent for totalist, secret executive power. And with each precedent for unchecked, uncontrollable executive power - including the power to detain and torture within the United States - the America we have known is being surrendered. This is the other war - a constitutional war at home against American liberty and the Constitution - as dangerous in a different way as Islamism. One attacks our freedom from the outside; the other hollows out our freedom from within. The fight against both is the calling of the time.
I think we're in denial about this. Following Mukasey's statements with confirmation would set a precedent we may well deeply regret. Think of another terrorist attack. Think of the Cheney precedents. Think of Giuliani in the White House. Now think of what would be left of democracy and the Constitution the day after.
(Photo: Mark Wilson/Getty.)