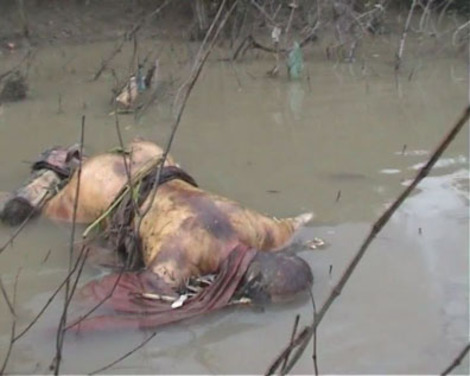 More vileness from Burma:
The government has called upon state-run media agencies and government supporters to publish photographs of citizen journalists and take action against them.
In response, here is a very partial list of names of those now missing. George Packer writes about the suddenly iconic image of the murdered monk, posted above and here:
How this particular monk came to be lying face down in a Rangoon stream is not known. But the picturereminiscent, in a way, of others from places like Rwanda, Iraq, Cambodia, and Nazi Germanyshows totalitarianism in its most physical form: the elimination not just of an individual's life but of his value. Aye Chan Naing, D.V.B.'s executive director, told me by phone from Oslo that as many as six thousand Burmese, the majority of them monks, have been detained in four locations around Rangoon, and their fate is uncertain. After nightly raids, the monasteries are "totally empty," and he fears the worst for the detainees.
Please sign the petition.