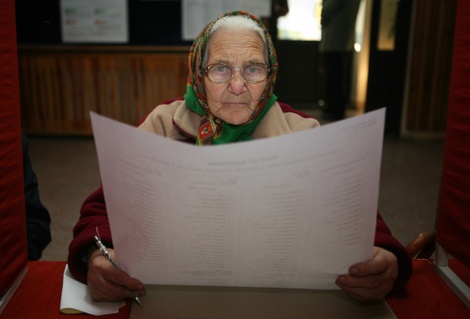 A Polish woman is seen in a voting booth as she reads the candidate names during the parlimentary elections at a polling station in the village of Glinianka, central Poland, 21 October 2007. By Wojtek Radwanski/AFP/Getty. AP reports on the Bush-supporting Christianist government's demise at the polls:
A pro-business opposition party that wants to bring Poland's troops home from Iraq was headed to an overwhelming victory in Sunday's parliamentary elections, exit polls showed, setting it up to oust the prime minister's staunchly pro-U.S. government.

It would be a stinging defeat for Prime Minister Jaroslaw Kaczynski, whose conservative Law and Justice party was elected two years ago and has since been criticized for its combative approach to the European Union and efforts to purge former communists from positions of influence.