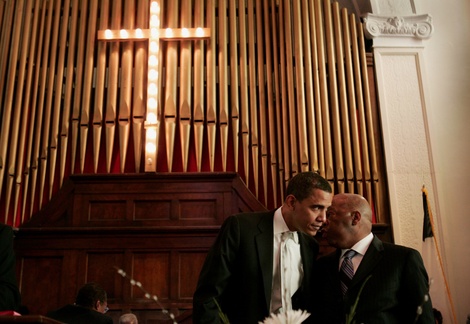 A reader writes re: John Lewis:
Let me come to your defense on this. The question you asked (Did Bill get to him?) is a valid one. It is a question that will only get someone's knickers in a twist if they have a short memory and/or don't know the facts.

In March of this year when Obama and Clinton were in Selma, Ala. to commemmorate the march, John Lewis was on Obama's side. He was with him at Brown Chapel AME Church and not with Clinton at the First Baptist Church. As I understand it, he (John Lewis) wanted to come out for Obama then, but Bill stepped in to ask him to wait.

I won't go on any further, but I see your question as a good and valid one. To which I'll answer with not Yeah ... but HELL YEAH!!!!
Fading memory has helped some to forget about the Clintons, their political machine and their ruthlessness. A rising black politician in the Democratic party is a threat to them and their power over blacks. So they are doing what they can to crush him, and punish any Democrat who associates with him. As Hillary Clinton's poll numbers rise, her leverage increases. As does the fear of those Democrats who know what follows if they cross the power-couple from Hot Springs. I don't know what prompted Lewis to back Clinton; he marched between Obama and Clinton in Selma, but worshipped with Obama afterwards as you can see above. But I very much doubt that Bill did not have a word with him. Again: the way in which Hillary uses her marriage to advance her own power is striking. No real feminist would do this; only someone who postures as a feminist while using her husband as a tool.
(Photo: Democratic Presidential candidate Senator Barack Obama speaks with U.S. congressman John Lewis before addressing a crowd gathered for the commemoration of the 1965 Voting Rights March at Brown Chapel AME Church March 4, 2007 in Selma, Alabama. By Scott Olson/Getty.)