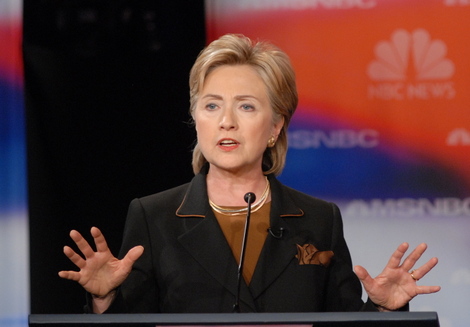 One thing that strikes me about these debates: the Democrats are much more boring than the Republicans. I'm not entirely sure why. My hunch is that the Democrats actually think they may need to govern the country, and the Republicans are still just having some fun in the post-Bush wreckage. But the responsible rhetoric, stilted language, and long, literate paragraphs that came out of the Democrats tonight were a reminder that this has been the party of Adlai Stevenson, Walter Mondale, and Michael Dukakis.
The obvious loser was Senator Clinton. Her constant calculation, careful parsing, avoidance of direct answers to direct questions: all these were reminders of a pure politician. She's obviously capable, extremely intelligent, and so hollow you could almost hear the focus-grouped platitudes echo within her. She also lost that new-Clinton benign smile, that newly poll-tested glow. Instead we got an occasionally droning, lecturing, and unrelenting stream of tight-faced opportunism.
As someone who thinks Obama is still the best bet for real change in this election, I kept feeling underwhelmed by his performance. You wait for him to go in for the kill ... and ... he ... never ... quite gets there. He seems to be possessed of an almost pathological high-mindedness, and an inability to encapsulate his arguments in ways that get traction against his opponents. There were times when his oratorical high-point was the word "actuarial." If this is how he performs after we're told he's taking the gloves off, Rudy Giuliani must be licking his chops. Goddamn it: stop being so fricking reasonable and above it all. His response to the Romney Osama-Obama smear was - sorry to say - pathetic. He can't get mad at these racist attacks? He had a great answer to the final UFO segment, and he got a few final cracks in against She Who Is Inevitable. But he needs to grow some balls fast.
The winner was clearly Edwards. He was concise, aggressive, completely right about Clinton and always on point. He seemed unafraid to take her on, while Obama was still playing a too-careful defense. If I were to give an instant sum-up of the debate - and I'm a blogger so it's my job - it would be that Clinton's profound weakness as a general election candidate was pretty badly exposed. And the main alternative just about survived as a credible presidential candidate.
In other words: a great night for the GOP.
(Photo: William Thomas Cain/Getty.)