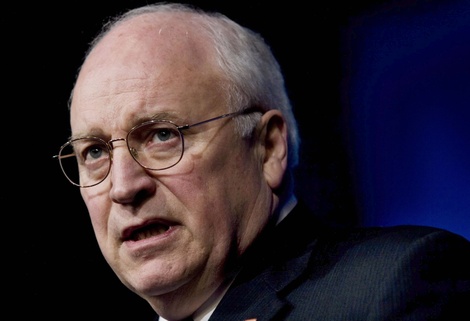 Don't say you haven't been warned. Cheney October 2003:
Last November, the U.N. Security Council passed a unanimous resolution finding Iraq in material breach of its obligations, and vowing serious consequences in the event Saddam Hussein did not fully and immediately comply. When Saddam Hussein failed even then to comply, our coalition acted to deliver those serious consequences.
Cheney yesterday:
The Iranian regime needs to know that if it stays on its present course, the international community is prepared to impose serious consequences. The United States joins other nations in sending a clear message: We will not allow Iran to have a nuclear weapon.
Greg Djerejian worries, as well he might. Here's the casus belli the Decider may well have already made the Decision on. Not just the nukes, but Iraq:
Perhaps the greatest strategic threat that Iraq's Shiites face today in -- is -- in consolidating their rightful role in Iraq's new democracy is the subversive activities of the Iranian regime. The Quds Force, a branch of Iran's Islamic Revolutionary Guard Corps, is the defender of the theocracy. The regime has used the Quds Force to provide weapons, money, and training to terrorists and Islamic militant groups abroad, including Hamas; Palestinian Islamic Jihad; militants in the Balkans; the Taliban and other anti-Afghanistan militants; and Hezbollah terrorists trying to destabilize Lebanon's democratic government.

The Iranian regime's efforts to destabilize the Middle East and to gain hegemonic power is a matter of record.
(Photo: Mandel Ngan/AFP/Getty.)