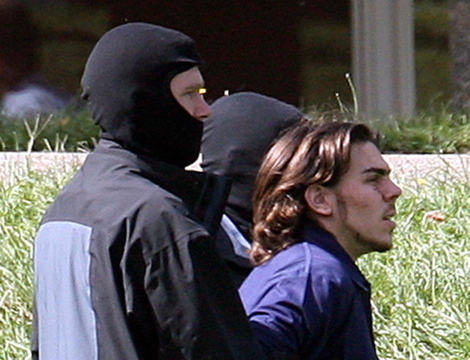 It may well happen in Europe and it may well look like this:
Ms. Harms said the two German suspects were converts to Islam who had trained in terrorist camps in Pakistan. They had 1,500 pounds of hydrogen peroxide to make explosives, which they had hidden and were preparing to move when they were arrested on Tuesday afternoon. Officials said they also had military grade detonators. German and American officials said that such indicators made them suspect connections to Al Qaeda.

"This would have enabled them to make bombs with more explosive power than the ones used in the London and Madrid bombings," Jörg Ziercke, head of the German Federal Crime Office, said, calling the links to Al Qaeda "close." German officials were visibly relieved by the arrests, which they said were the fruits of a six-month investigation involving 300 people from the police and prosecutor's office. On Wednesday, police raided 41 houses and apartments across Germany, seizing computers and other evidence.
Congrats to the Germans. Some obvious points: these men are educated, two of three are German nationals, all seem to have been trained not in Iraq, Iran or Afghanistan, but in Pakistan, a putative ally. It is hard to see how the Iraq war - whether a failure or a success - would have any impact on this tiny cell's attempt at mass murder in the name of God. This is simply the religious violence we have to contend with for the indefinite future. All we can do is what the Germans did: keep up surveillance (with protections against abuse), and run as many to ground as we can.
(Photo: German security officials lead one of three terrorist suspects from a helicopter to Karlsruhe's federal court 05 September 2007. By Thomas Lohnes/AFP/Getty.)