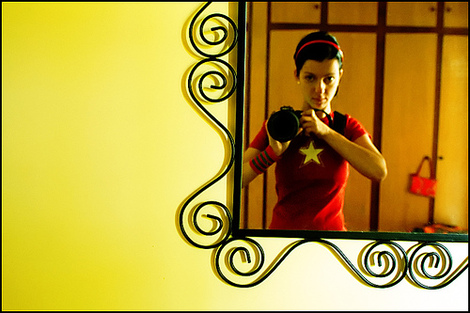 Some leads for Burma blogging: Yan Aung's site is here; Lun Swe's is here. An online suggestion for how to help. It's gratifying to see so many pitching in. McConnell and Feinstein have even come together in the Senate. Radio Free Asia is doubling its broadcasts to the country; so is Voice of America. Even Facebook is helping:
In response to the Buddhist monk-led protest in Burma, a Facebook group, "Support the Monks' protest in Burma" is using the Internet to organize and promote gatherings and other initiatives. One of these is a Facebook event called Red Shirt for Burma, encouraging people to wear a red t-shirt on the 28th of September as a show of support.

At present, more than 4,000 people have pledged their support for Red Shirt for Burma with an impressive near-35,000 people joining the Facebook group that is helping to promote the event.
Check out the Flickr red shirt pics here. I know it seems pious, but if any of these images reach Burma, they can help give the beleaguered Burmese - and ethnic minorities in Burma's hinterlands - help. In Asia, South Korea's citizen-journalists are demanding that their own government do more.