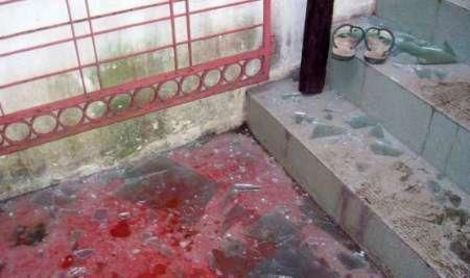 Caution: all these reports are as iffy as their English is somewhat garbled. But hope springs:
Military sources in Rangoon are claiming that the regime's number two, General Maung Aye (right), has staged a coup against Than Shwe, and that his troops are now guarding Aung San Suu Kyi's home. A meeting between him and Suu Kyi is expected. Maung Aye is army commander-in-chief and a renowned pragmatist. 29 Sep 07, 01:43

URGENT : From internal source: It is heard that the junta has set a plot to assassinate the most senior venerable monks (Sanga Maha Naryaka) tonight as if it is done by the monks involved in the protest.
More here:
Reports from Rangoon suggest soldiers are mutinying. It is unclear the numbers involved. Reports cite heavy shooting in the former Burmese capital.

The organisation Helfen ohne Grenzen (Help without Frontiers) is reporting that "Soldiers from the 66th LID (Light Infantry Divison) have turned their weapons against other government troops and possibly police in North Okkalappa township in Rangoon and are defending the protesters. At present unsure how many soldiers involved."
Chris Dillow explores the chances of a military revolt here. The brutality of the troops in such a peaceful country may be backfiring:
This picture on the top right is part of the human brain of a young boy attacked by Burmese SPDC soldiers at Tarmwe Township, Yangon yesterday. Riot police were not using rubber-coated rods. They were using heavy iron rods instead, which broke the skull, putting the young man to the end on the spot. This photo was taken after the dead body was taken away by the notorious Burmese soldiers.
Obviously, I can't verify this. But, given the record of SLORC and its thugs, it's believable.