From the United Nations High Commission on Refugees:
"The humanitarian situation in Iraq continues to deteriorate with the number of displaced Iraqis, both inside and outside the country, rising. Now, an estimated 4.2 million Iraqis are have been uprooted from their homes, with the monthly rate of displacement climbing to over 60,000 people compared to 50,000 previously, according to UNHCR and the Iraqi Red Crescent. Displacement is rising as Iraqis are finding it harder to get access to social services inside Iraq and many Iraqis are choosing to leave ethnically mixed areas before they are forced to do so. Some Iraqis who stayed in the country until the end of the school year recently started leaving the country with their families.

More than 2 million Iraqis are displaced inside Iraq, with over 1 million displaced since the February 2006 Samarra bombings. While most of the security incidents happen in the centre and south of the country, the displaced are not confined to these regions. In the north, there are more than 780,000 displaced Iraqis, over 650,000 in the centre of the country, and 790,000 in the south. Many are barely surviving in makeshift camps, inaccessible to aid workers for security reasons."
The population of Iraq is around 27 million. That means that about one in every six Iraqis is a refugee. That's staggering. Just to make matters worse, though, cholera has broken out in refugee camps in the north:
"A cholera outbreak in northern Iraq, where thousands of people have sought refuge from sectarian violence, is overwhelming hospitals and has killed as many as 10 people, health officials said Friday.

The outbreak in Sulaymaniya and Kirkuk is seen as the latest example of the displacement and deterioration of living conditions caused by the Iraqi conflict.

The water-borne disease has struck more than 80 people in the two cities, which are about 100 miles apart, said Claire Hajaj of the U.N. Children's Fund, or Unicef. She said cholera had been confirmed as the cause of five deaths and was suspected in five others.

Local officials said more than 2,000 people had been affected. (...)

The number of patients arriving at health facilities with cholera symptoms, which include severe diarrhea, has increased to the point that hospitals have stopped testing everyone.

"They simply can't test them all," said Hajaj, of Unicef. "They're just assuming that if it looks like cholera, they have cholera.""
We have not begun to do our part in addressing this problem:
"Since 2003, when the United States toppled Saddam Hussein's regime, only about 1,300 Iraqi refugees have been resettled in the United States. Most of those admitted actually applied for resettlement before the 2003 war began. Only in recent months have refugees who fled after the fall of Saddam been able to arrive in the United States."
Here's a handy
chart
. I feel so proud thinking that we have made it all the way to
number 15
on this list, and have taken in a little over half as many refugees as Denmark, especially given the differences in the size of our respective populations. She lied.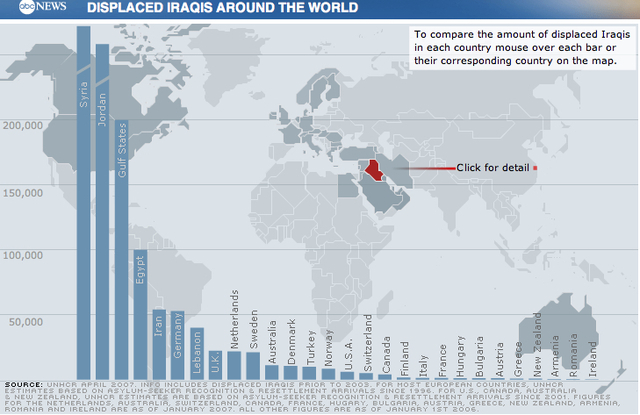 The Bush administration: thinking up new and innovative ways to make me ashamed of my government.