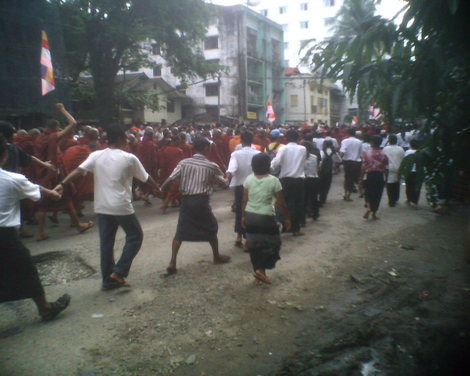 Here's a gripping first-person report from Burma today:
When we reached the Shwedagon pagoda just as the latest demonstration was gathering, we knew something was up. We saw plain-clothes government thugs threatening the monks. And we knew then that something had changed. One of them was standing above a group of monks, hanging off a railing and screaming at them. He shouted: "Do you want death? If you want death, trying walking down this street."
Read it all. The Times of London has several blog reports from inside the country. From one eyewitness:
A respectful old monk is in the vanguard of the column singing national anthem and holding flags of fighting peacock.

Despite [being] peaceful, demonstrators have been beaten to break up the crowd, and they are still together reciting "metta sutta" (A discourse on loving-kindness, about disseminating love to those who are aggressive).
Check out uploaded pics at Saffron Revolution. BurmaDigest is also a good resource for breaking news. Time has more:
"They are not Buddhists," cried one student, who clutched half a brick in his hand, running from the smoke. "They are not humans. We were praying peacefully and they beat us. They beat the monks, even the old ones." An 80-year old monk stood with the student, bleeding from a baton gash on his shaven head.

However, after this confrontation, the monks regrouped and surged forward again. Shops along the road were shuttered, but people threw down water bottles from their balconies to aide the protesters. Minutes later, the arc of a tear-gas canister looped through the air toward the pagoda's east entrance. The air was full of dense black clouds from a burning car and motorbike. Running monks retreated through the smoke, many armed with clubs of scavenged wood, one armed with a riot shield snatched from the police. They were shaking and incandescent with rage. "The United Nations must know about this!" cried one. "They beat the nuns too," cried another.
And it's not just Rangoon:
In Mandalay: There are also news coming from Mandalay that the crack down has also started there. Soldiers use tear gas, and also shoot above the heads of demonstrators. Many demonstrators were injured.

In Sittwe: Clashes between protestors and soldiers have been reported to be going on in Sittwe, largest city in western Burma, since yesterday.
Here's a helpful round-up of scholarly response and background to the revolution. Here's a summary of what's in the Thai media. And here's a photoblog from the streets of Rangoon. More blogging to come.