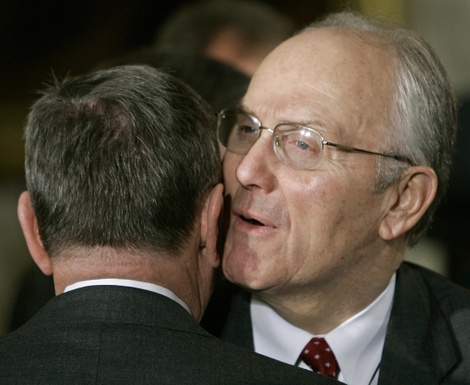 This could get interesting. Larry Craig's kids appear totally invested in the notion of their father as "not-gay" - a completely understandable if sadly delusional conviction at this stage:
Jay Craig, 33, told The Associated Press that he, his brother, Michael Craig, 38, and his sister, Shae Howell, 36, spoke candidly with their father about the June 11 arrest.

"Our conclusion was there was no wrongdoing there," Jay Craig said. "We understood the direction he was taking (by pleading guilty) and there was nothing illegal that happened there that would even convince somebody what he was doing was illegal. He was a victim of circumstance, in the wrong place at the wrong time when this sting operation was going on."
The kids were all adopted, by the way. Then this:
Craig has hired a high-powered crisis management team that includes [Billy] Martin [Michael Vick's lawyer]; communications adviser Judy Smith; Washington attorney Stan Brand, a former general counsel to the U.S. House; and Minneapolis attorney Tom Kelly.

Brand, who represented Major League Baseball in the congressional investigation into steroid use, will handle any Senate Ethics Committee investigation of Craig, while Kelly will assist the legal case in Minnesota.
That doesn't sound like a guy on the edge of resignation. Of course, I can't imagine that anyone in the GOP wants this story to continue running. Unless Arlen Specter has a very devious plot to reform the GOP by detonating its closet. He does seem to have played the pivotal role in changing Craig's mind.
(Photo of Craig and attorney-general John Ashcroft March 9, 2006, by Paul.J. Richards/AFP/Getty. All alternative caption possibilities sadly anticipated.)