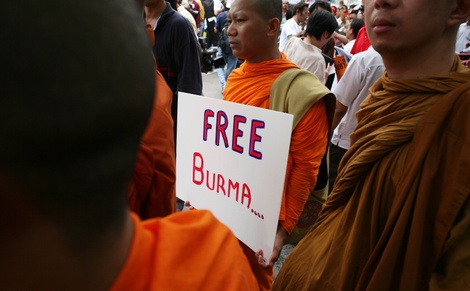 Heaven knows what the casualties are, and as the country gets cut off from the outside world, it's hard not to fear the worst:
Bob Davis, Australia's ambassador to Burma, said he had heard unconfirmed reports that the death toll following two days of violence was "several multiples of the 10 acknowledged by the authorities."
The AP suspects, but has not confirmed, that deaths could be in the hundreds at this point. Japan is pressing for an investigation into the killing of a Japanese journalist. There are some reports that the resistance is becoming more violent, more disorganized and more explicitly anti-junta:
Chants from the protestors have taken on a different tone from earlier messages of goodwill, with protestors calling for lightning to strike and kill those who had attacked monks.

"Before they were chanting metta, but now they are cursing the soldiers," said a local resident.
More confirmation of the trend here:
Crowds of people taunted soldiers in the centre of Rangoon today, swearing at them and then running into side alleys of Burma's biggest city when the troops feigned a charge, a witness said.

Men were shouting at the soldiers in English: "Fuck you. Go fuck yourself".
Protesting government censorship, Rangoon's journalists have chosen to shut down their presses rather than print more lies. The junta is now hunting down people in offices who have been taking photographs and posting them on the web:
I got a news from my friends that last night some military guys searched office computers from Traders and Sakura Tower building. Most of the downtown movement photos were took from office rooms of those high buildings. GSM phone lines and some land lines were also cut out and very difficult to contact even in local. GSM short message sending service is not working also. Burma is blacked out now!
Maybe technology can help keep the world's eye focused. Satellite images of riots and massacres might be available soon:
"We should get the first images back in the next day or so," says Lars Bromley, a senior researcher with the American Association for the Advancement of Science (AAAS) in Washington DC.
Keeping the world's attention through the blogosphere is now essential. The revolution is not only going to be blogged; in some respects, the blogosphere is now critical to the survival of the revolution. Know hope.
(Photo: A Burmese monk holds a placard during a protest outside the Burmese embassy on September 28, 2007 in Bangkok, Thailand. Dozens of Buddhist monks and hundreds of people gathered to demonstrate against the Burmese government, urging the junta to stop violence and its crackdown against protestors and Buddhist monks. By Chumsak Kanoknan/Getty Images.)