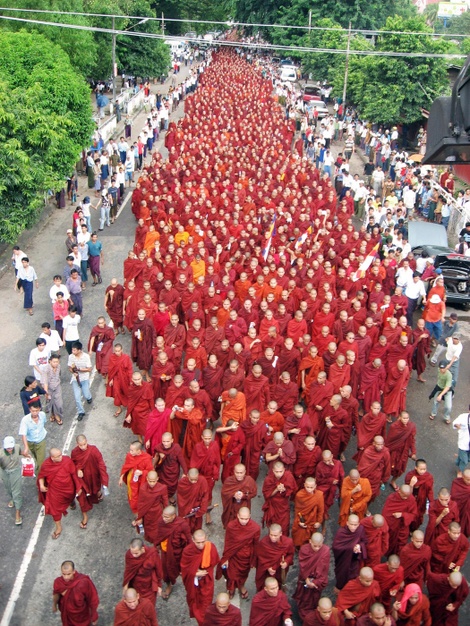 A curfew was imposed. And today, riot police have been arresting hundreds. One demonstrator is dead. I feared worse, but Josh Kurlantzick is worried nonetheless:
Despite high-profile condemnation of the Burmese by President Bush and First Lady Laura Bush, and vows to bring up Burma at the United Nations, the UN has moved slowly. The UN's special envoy on Burma has not publicly pushed for a return visit to the country, setting no official date for his trip.

Worse, the neighbors on Burma's borders once again are staying mute. Though Secretary of State Rice has vowed to bring up Burma at meetings with Southeast Asian officials on the sidelines of a major UN meeting this week, the Indian and Thai governments--Thailand's run since last year by generals--offer few comments, even as other Southeast Asian nations farther from Burma, like the Philippines, call for democracy. Even the Indian media has barely covered events in Burma.
Eeyore
Larison
is even gloomier, especially about the withdrawal of some troops from Karen areas:
The Chinese government used the same methods in 1989, bringing in reserves from Sichuan and other provinces to crush the students in Tiananmen, and you would almost have to assume that Beijing is giving the junta tips on how to quell the protest, since a change in the political situation there could create difficulties for their neo-colonial treatment of Burma.
There's another helpful primer here. Everyone agrees the monks are critical - "engaged Buddhism" is the term du jour - not politicization of faith but faithful resistance to intolerable oppression. A Cambodian blogger approves:
I am aware that in Buddha's teaching, monks should be reserved and by all means shouldn't be involved in politics. However, if we think realistically, they are also one of the rightful citizens of the nation. Whatever happens to the country affects everyone ordinary people and monks alike. We can use the Khmer Rouge time as an example. Thousands of monks were killed. For many reasons, I don't think they should be silent at all. When society requires their intervention, it's appropriate enough to hear their voice and initiatives.
And their courage. Pray for these people who are braver than most of us will ever know. Burma is a country of enormous potential and shocking beauty. It deserves to escape from its totalitarian cage.
(Photo: Provided to AFP 25 September, 2007 by Mizzima News website and taken 24 September, 2007 shows Buddhist monks march in protest in Yangon in the strongest show of dissent against the ruling generals in nearly two decades. AFP/Getty.)