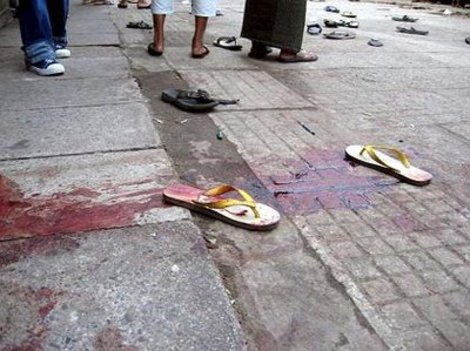 The generals are trying to shut down the Internet:
"We had been getting information through mobile phones but these have been cut off. Then our reporters used cybercafes but the traffic has really slowed down in the last few hours. Some of the landlines we used have also been closed, so we cannot get in touch with our people."
Meanwhile, reports of several deaths are coming in. Nothing too awful yet. Remember that thousands died in 1988. There are reports of a potential crack in the military from a group calling itself the Public Patriot Army Association. Some first-person accounts:
"We, students came from Hledan and when we reached Strand road there were about 2000 to 3000 of us. The soldiers surrounded us from Hledan side and also from Bakara Road side. So, the students fled and scattered into residential areas. And the soldiers fired thrice and started beating people with batons. They chased the students up to Salin ground in Kyihmyindine. Two persons from the locality were hurt," a student protester told Mizzima.

"As I am talking to you, about 15 military trucks, one fire brigade truck, and about 20 police vehicles are all heading towards Hledan," added the student.
And here:
Now there are shootings in front of the Innwa tailoring shop. Soldiers are shooting and arresting too. It is at the junction of Anawrattha and Pansodan streets. It happened just now, but I did not see anybody getting hurt. The soldiers fired quite a lot of rounds. Now the protesters are heading towards Pazuntaung Township. The people are not scared. A lot of stones that the protesters threw at the soldiers could be seen scattered in front of the Innwa tailoring and on Pansodan traffic point. From the Pansoda flyover ten military trucks came down. The trucks were filled with arrested people.
Another grim photo posted on Burma Digest: