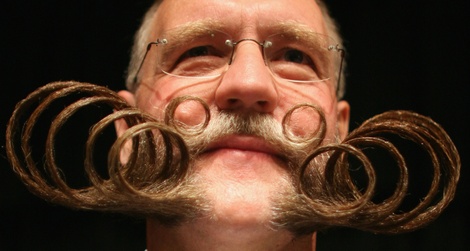 I missed this in my honeymoon bliss, but they just had a world beard contest:
Competitors were vying for the tankard with a moustache shield that comes with victory.

Categories of moustache included: Natural, English, Dali, Imperial, Hungarian and Freestyle. Partial Beard categories were Natural Goatee, Chinese, Musketeer, Imperial, Freestyle and Sideburns Freestyle.

For full beards, competitors battled it out in the Verdi, Garibaldi, Natural Full, Natural Full with Styled Moustache and Freestyle categories.

"The freestyle beard is probably the most spectacular one because basically, as the name suggests, it's freestyle, so you can do anything you like," Parsons said, according to the BBC.

"For example, at the last championships in Berlin, one of the competitors there actually styled his beard in the shape of the Brandenburg Gate with horses and flags and everything."
For the finale, the men with the biggest beards should compete for the silliest walk.
(Photo: Daniel Berehulak/Getty.)