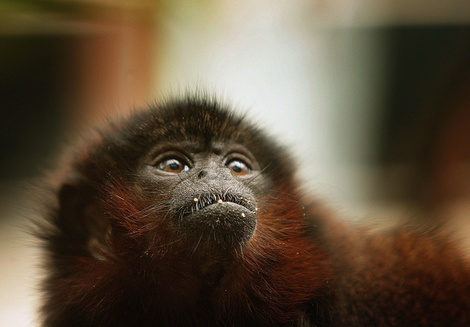 Not that different from us, apparently:
When trying to understand someone's intentions, non-human primates expect others to act rationally by performing the most appropriate action allowed by the environment, according to a new study by researchers at Harvard University.

The findings appear in the Sept. 7, 2007 issue of the journal of Science. The work was led by Justin Wood, a graduate student in the Department of Psychology in the Faculty of Arts and Sciences at Harvard, with David Glynn, a research assistant, and Marc Hauser, professor of psychology at Harvard, along with Brenda Phillips of Boston University.

"A dominant view has been that non-human primates attend only to what actions look like when trying to understand what others are thinking," says Wood. "In contrast, our research shows that non-human primates infer others' intentions in a much more sophisticated way. They expect other individuals to perform the most rational action that they can, given the environmental obstacles that they face."
But our kids still beat theirs'.
(Photo: Peter MacDiarmid/Getty.)