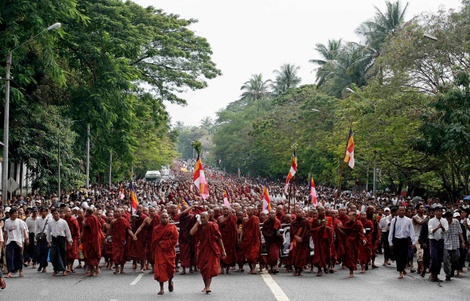 I visited Burma twenty years ago, on the eve of the last revolution in 1988. Anyone who has ever been there will tell you it is hard to imagine a ghastlier regime - a throwback to the worst of the twentieth century's military totalitarianisms complete with insane social engineering, vicious violence against ethnic minorities, economic incompetence and pure, inhuman brutality. Having observed the revolution supressed once before, it's hard to get one's hopes up again. But this news is inspiring:
As many as 100,000 anti-government protesters led by a phalanx of Buddhist monks marched Monday through Yangon, the largest crowd to demonstrate in Myanmar's biggest city since a 1988 pro-democracy uprising that was brutally crushed by the military.

From the front of the march, witnesses could see a one-mile stretch of eight-lane road was filled with people.

Some participants said there were several hundred thousand marchers in their ranks, but an international aid agency official with employees monitoring the crowd estimated said the size was well over 50,000 and approaching 100,000.
Here's a helpful timeline of what's been going on since August 13. Here's a round-up of developments across the country. Long-suppressed ethnic minorities are joining the revolt. Here's the best web aggregator I can find on the developments. Here's an appeal for UN intervention. A medical doctor in the country prepares to treat those wounded by a potential crackdown. How to explain the junta's restraint? Part may be a reluctance to take on Buddhist monks, who remain, like priests in Communist Poland, a source of widely accepted moral authority. The Chinese, who have stepped in to make money after the West placed sanctions on Burma, may also have put pressure on the regime not to create a blood-bath:
"The Myanmar Burmese government is tolerating the protesters and not taking any action against the monks because of pressure from China," said a Southeast Asian diplomat, speaking on condition of anonymity as a matter of protocol. "Beijing is to host the next summer's Olympic Games. Everyone knows that China is the major supporter of the junta so if government takes any action it will affect the image of China."
That in itself is a hopeful sign: that the Olympics may prod China to a marginally more liberal foreign and domestic policy. I'm eager to find any first-person accounts of what's going on. If you find anything online, please let me know.
(Photo:Buddhist monks march in protest in Rangoon, 24 September 2007, in the strongest show of dissent against the ruling generals in nearly two decades. More than 100,000 people flooded the streets of Yangon in two major marches that snaked their way through the nation's commercial capital led by robed monks chanting prayers of peace and compassion. By AFP/Getty.)