"The Breastplate Of Righteousness"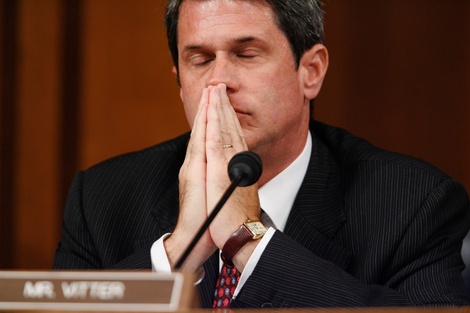 One of the unintended benefits of Larry Craig's unfortunate entrapment is the revival of interest in Laud Humphreys' ground-breaking - and ethically controversial 1970 study - "The Tearoom Trade." It was a milestone in the development of review boards for social studies. But it was followed by an unfinished work by Humphreys (he died prematurely of alcohol and cigarettes) on the perhaps strange fact that many of the men he discovered visiting restrooms for anonymous sex were very conservative in their views of social order and legality. That's why the "hypocrisy label" is such an uninteresting and uninformative one when it comes to people like Craig. Social conservatives who try to have extremely discreet and anonymous sex or drugs or whatever are not, perhaps, hypocrites as such. They recognize vice, do not deny it, see it in themselves, understand that some of it is simply irrepressible, and do not see their public moralizing as in conflict with it. Think Bill Bennett or Rush Limbaugh or Bill O'Reilly or David Vitter: all involved in various personal vices (often compulsively) - and arguably more socially conservative because of them. Here's an excellent overview of Laud Humpreys' work that gets at some of these nuances:
His biographers give a detailed account of the manuscript Humphreys worked on during his final years but never finished. It was to be a book revisiting one of the themes in Tearoom Trade – the idea he called "the breastplate of righteousness." That phrase was borrowed from an epistle by St. Paul, while the argument owed a lot to the Frankfurt School's analysis in The Authoritarian Personality.

Men he had observed having anonymous sex in a public place often turned out to be ardent champions of law and order. Unable to control themselves in that part of their lives, they put on the defensive "breastplate," redoubling their efforts elsewhere: "Motivated largely by his own awareness of the discreditable nature of his secret behavior," wrote Humphreys in his dissertation, "the covert deviant develops a presentation of self that is respectable to a fault. His whole lifestyle becomes an incarnation of what is proper and orthodox."
Revising this argument in his later years, Humphreys wrote about how hypocrisy, self-loathing, and aggression fueled one another. The work-in-progress, which he wanted to call "Immoral Crusaders," sounds like a real mess. His biographers call the manuscript "rambling" and of "far from publishable quality, at least by any scholarly journal or university press." The report Humphreys received from an editor for a major trade publisher was equally dismissive.

So a lost masterpiece it is not. But it sounds like an attempt to understand the force that drove and tortured him – not desire, but self-hatred.
And then one thinks of so many Catholic priests of the past. Some righteousness; some breastplate.
(Photo: David Vitter, by Chip Somodevilla.)