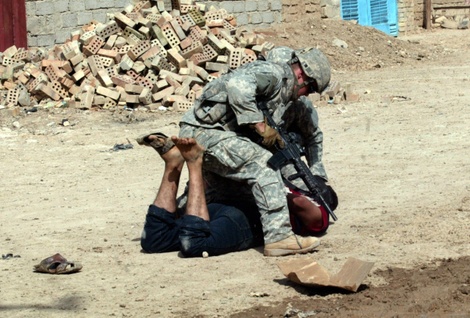 Tim Ash explains:
Osama bin Laden's plan was to get the U.S. to overreact and overreach itself. With the invasion of Iraq, Bush fell slap-bang into that trap. The U.S. government's own latest National Intelligence Estimate, released this week, suggests that Al Qaeda in Iraq is now among the most significant threats to the security of the American homeland.

The U.S. has probably not yet fully woken up to the appalling fact that, after a long period in which the first motto of its military was "no more Vietnams," it faces another Vietnam. There are many important differences, but the basic result is similar: The mightiest military in the world fails to achieve its strategic goals and is, in the end, politically defeated by an economically and technologically inferior adversary.

Even if there are no scenes of helicopters evacuating Americans from the roof of the U.S. Embassy in Baghdad, there will surely be some totemic photographic image of national humiliation as the U.S. struggles to extract its troops.

Abu Ghraib and Guantanamo have done terrible damage to the U.S. reputation for being humane; this defeat will convince more people around the world that it is not even that powerful.
(Photo: Wissam al-Okaili/AFP/Getty.)