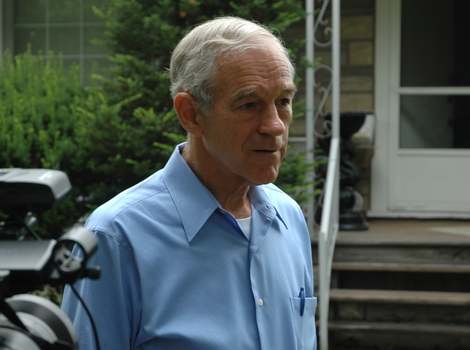 He is now ahead of John McCain in cash-on-hand, and third overall, behind Giuliani and Romney. Whereas McCain is fading, Paul is, er, surging. It's amazing what integrity, conviction and a little courage can do, isn't it? Money quote:
Paul, who polls show with support in the low single digits, said his surprisingly strong fundraising is the best measure of his support.

"I think people have underestimated the number of people in this country who are interested in a freedom message," says the Republican congressman from Texas, who has strong libertarian leanings.
(Photo: from a reader in Pittsburgh who writes:
Ron Paul grew up just outside Pittsburgh in the then-rural suburb of Green Tree on a five-acre farm where his father ran a small local dairy operation. On June 29, he visited his old neighborhood, which included his grandma's house in the enclosed picture. Paul slipped in and out of Pittsburgh with no entrourage, no fanfare and no pr efforts (in fact, his press guy missed the plane from DC and had to catch up by Greyhound).

He was met by an NBC "Today" show crew that taped a segment on him for its upcoming August-airing series on candidates' childhood homes, "Candidates Cribs." As part of a longer story I am working on for the Pittsburgh Tribune-Review, I spent several hours with Paul as he knocked on the doors of several houses that once made up the Paul Family compound and visited a local museum to look at old pictures of his high school sports teams (he was a track star and a jock). Coat-and-tieless, wearing black running shoes, he was his usual regular-guy self. (He reminds me of another local hero, Mister Rogers -- same gentle, laid-back personality and a Pittsburgh accent that can still be detected despite decades living in Texas.)

If you didn't know who Dr. Paul was (and virtually no one did), you'd  never have guessed he was even the most-local of politicians. The fact that he's running for President and has probably raised enough money via the Internet to keep himself and his honest, GOP-shaming libertarian principles in the race all the way, is a hoot -- and a minor hopeful miracle of the new Digital Age.)
Agreed. Know hope. Ann Coulter isn't the only voice for conservatism in America.