The Alternative To Torture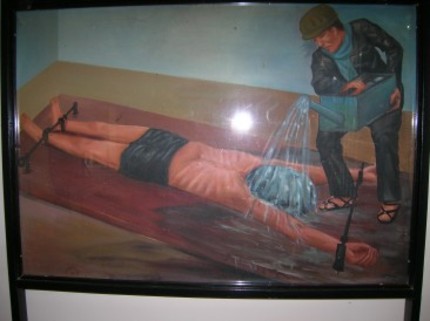 Yes, it exists. Yes, it's more effective. Yes, Philip Zelikow, the Executive Director of the 9/11 Commission, is right. And yes, the Bush administration has done nothing to improve our human intelligence gathering and methods in the last five years, further endangering national security. They've been too busy firing gay translators and macho-ing it up in the Congress and courts:
Some of the experts involved in the interrogation review, called "Educing Information," say that during World War II, German and Japanese prisoners were effectively questioned without coercion.

"It far outclassed what we've done," said Steven M. Kleinman, a former Air Force interrogator and trainer, who has studied the World War II program of interrogating Germans. The questioners at Fort Hunt, Va., "had graduate degrees in law and philosophy, spoke the language flawlessly," and prepared for four to six hours for each hour of questioning, said Mr. Kleinman, who wrote two chapters for the December report.

Mr. Kleinman, who worked as an interrogator in Iraq in 2003, called the post-Sept. 11 efforts 'amateurish' by comparison to the World War II program, with inexperienced interrogators who worked through interpreters and had little familiarity with the prisoners' culture.

The Intelligence Science Board study has a chapter on the long history of police interrogations, which it suggests may contain lessons on eliciting accurate confessions. And Mr. Borum, the psychologist, said modern marketing may be a source of relevant insights into how to influence a prisoner's willingness to provide information.

"We have a whole social science literature on persuasion," Mr. Borum said. "It's mostly on how to get a person to buy a certain brand of toothpaste. But it certainly could be useful in improving interrogation."

Robert F. Coulam, a research professor and attorney at Simmons College and a study participant, said that the government's most vigorous work on interrogation to date has been in seeking legal justifications for harsh tactics. Even today, he said, "there's nothing like the mobilization of effort and political energy that was put into relaxing the rules" governing interrogation.
The decent people in this administration - mainly career military brass and Condi's circle - are finally pushing back against the war crimes of Cheney and Rumsfeld. But the Bush mojo is the same. They don't actually care about the effectiveness of their policies, just how they can be used as wedge issues. Last summer, Karl Rove was determined to use torture and Gitmo as his electoral path to retaining the Congress. He thought he could portray the Democrats as weak on terror. Of course, only cowards and failures use torture. And how many Democrats or Republicans could have made us more vulnerable to more terror than Bush has these past five years? You can read about the Nazi origins of the term "enhanced interrogation" here.
(Photo of a Khmer Rouge waterboarding, in a torture museum in Cambodia. They didn't get the Bush memo that the museum needs to be called one of "enhanced interrogation.")