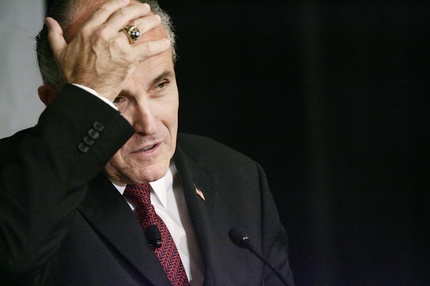 As head of the doctrinal watchdog, Joseph Ratzinger wanted to refuse John Kerry communion for being pro-choice. Only some deft footwork from the American bishops avoided a mega-clash. But as Pope, Benedict seems to have ratcheted up the pressure on his way to Brazil:
On the plane from Rome, Benedict appeared to go further than the Vatican had before on the contentious issue of Catholic politicians who favor abortion rights. He seemed to suggest that Mexico City legislators who recently voted to allow abortion in the first 12 weeks of pregnancy had excommunicated themselves.

"Yes, the excommunication isn't something arbitrary it's part of the code" of church law, the pope said in Italian, in response to a question during the first full-fledged news conference of his two-year pontificate. "The killing of an innocent human child is incompatible with going into communion in the body of Christ," ...
The pope's spokesman, the Rev. Federico Lombardi, quickly issued a clarification that played down his words, but then issued a statement approved by the pope that seemed to confirm a new gravity on politicians who allow abortion. "Legislative action in favor of abortion is incompatible with participation in the Eucharist," the statement said, and politicians who vote that way should "exclude themselves from communion."
This news came on the same day that Rudy Giuliani decided to run an explicitly pro-choice presidential campaign, hoping to withstand early pro-life primary pressure and survive until the bigger, more socially moderate states. Giuliani doesn't just support abortion rights legislatively, he has done so as an executive and favors public financing of some. By the Pope's own logic, he has excommunicated himself. I wonder when all those Republican theocons who tried to get Kerry excommunicated will hammer this point home.
(Photo: Chip Somodevilla/Getty.)