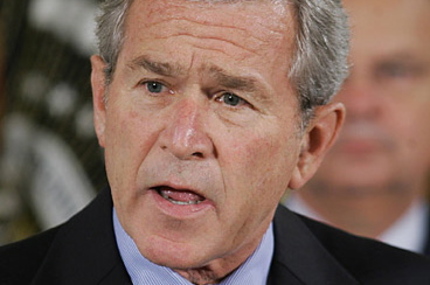 The president's press conference last week left me at a loss for words. Spluttering is not a real response. But how else to respond to a man who has spawned a catastrophe in the Middle East and then behaves as if it's his critics who are out of touch with reality? Then we get this latest news about pre-war intel from the WaPo and the dreadful but obvious reality in the NYT that every road ahead in Iraq - staying or leaving, surging or redeploying - is full of death, terror and chaos. The light at the end of this tunnel is hard to glimpse. But Bush is still proudly digging the tunnel.
What can one say? Well: we can say this at least. The president is right that al Qaeda remains a terrible threat to Americans. He is right to insist on this. But one core reason he is right is because he has been in the White House for the last six years. Al Qaeda surely never had a more helpful man in such a powerful place. After over six years of this presidency, Bin Laden is still at large. Five and a half years after Bin Laden's religious tools murdered 3,000 innocents, this president still cannot find or capture or kill him. Five and a half years after that dreadful day, al Qaeda's reach in the Middle East is more extensive than ever, centered in Iraq, where it was barely existent before the war. Over four years after invading Iraq, the security situation there is as grave as it has ever been. Tens of thousands of innocents have been added to the three thousand murdered on 9/11 - many of them unspeakably tortured and murdered by death squads or Islamist cells empowered by Bush's jaw-dropping negligence. Over three thousand young Americans have died in order to give al Qaeda this victory and this new platform.
Here is Bush's gift to the victims of 9/11: two new al Qaeda safe havens - in Anbar and in Pakistan. He gave Zarqawi a second career, by refusing to kill him when had a clear shot in 2003, and then allowing him to run rampant across Iraq for several years. Islamists, moreover, are far closer now to getting their hands on WMDs than they were when Bush became president - the very casus belli I foolishly bought to go to war with Saddam. Given the financial boost al Qaeda has gotten from the Iraq invasion, the massive propaganda coup they have won by Bush's authorization of torture, and the triumph of Iran as a consequence of Bush's non-existent "strategy", isn't it simply a fact that Bush is the best thing to happen to al Qaeda since its founding? Is not the record now clear that, whatever their intentions, Bush and Cheney have actually advanced the day when Islamist terrorists will kill and murder more Americans?
If a Democrat had been responsible for endangering America in this fashion, the Republicans would have impeached him by now. If a Democrat had bungled a war as obviously as this president - a war, moreover, that he has described as an existential struggle for our survival - the Republicans would long ago have Carterized him. Look how the Israelis have held Olmert accountable for his feckless war in Lebanon. Compared to Bush, Olmert is Churchill. If Bush's record in this war is "offense," then the only sane response is: so was the charge of the light brigade.
Just to anger up the blood some more, it's now clear, thanks to the latest Congressional report, that this president was warned starkly about the dangers of "a surge of political Islam and increased funding for terrorist groups" as a result of an invasion of Iraq. He was told that Iraq was "largely bereft of the social underpinnings" for democracy. He was explicitly informed that there was "a significant chance that domestic groups would engage in violent conflict with each other unless an occupying force prevented them from doing so." And yet he still sent a pathetically insufficient occupation force in 2003 - and refused to increase it for three years of growing chaos and mayhem. Even if you excuse the original recklessness, the persistence in it - until our current point of no return - is and was criminal negligence - a callous disregard for your security and mine.
The gravity of the mistake this country made in 2004 by re-electing al Qaeda's best bet is only now sinking in as deep as it should. I fear, however, that we have yet to experience the full and terrifying consequences of that historic mistake.
(Photo: Mandel Ngan/AFP/Getty.)