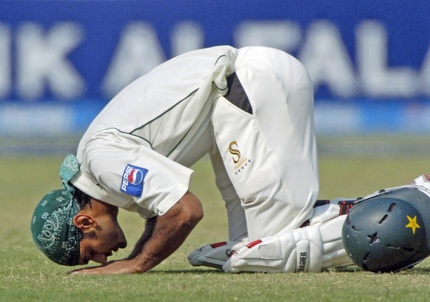 The contrast in the national cricket teams of Pakistan a generation ago and today is quite startling. The overt Islam on display today was much more subdued in the past. Here's an interesting article on recent shifts in the team - and in Pakistan as a whole, including the conversion of one star cricketer from Christianity to Islam:
In recent months, two of the more heated domestic debates have been whether or not to retain a column that asks you to identify your faith in the Pakistani passport (after much debate, the column has been retained) and the impending implementation of a Hisba bill in the North-West Frontier Province. The bill essentially puts forth yet another parallel legal Islamic system, one which liberal circles decry as an act of Talibanisation, so strict are its moral codes.

Younger players in the current team are children of this era, unlike players such as Imran Khan, Javed Miandad and even Akram. When Salman Butt says, as he did in a recent Wisden interview, "we are Muslims and we believe in Allah. We do whatever Islam says and we try to be what we are supposed to be. Religion is the complete code of life and we follow its guiding principles," it is but natural for someone born in 1984, at the peak of Zia's rule, to not just say it, but stress upon it.
And so fundamentalism creeps into everything, as it must.
(Photo: Pakistani cricketer Mohammad Hafeez bows down to the ground after scoring a century (100 runs) against West Indies during the fourth day of the third and final Test match between Pakistan and West Indies at the National Stadium in Karachi, 30 November 2006. Pakistani batsman Mohammad Yousuf broke West Indian Vivian Richards' 30-year-old record for the most Test runs scored in a calendar year. By Asif Hassan/AFP/Getty.)