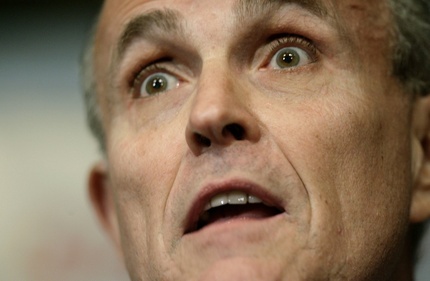 Michael Tomasky has a hit-piece in the American Prospect. Except it might actually endear Giuliani to the base. Money quote:
When Giuliani was mayor, did he really believe in abortion rights and gay rights and strict gun-control laws and very liberal immigration policy? "That's a very, very tough question," says David Garth, the legendary New York political consultant who handled Giuliani's 1993 and '97 mayoral races. "My feeling was, the positions he took, he felt them. Whether he really felt them, if you know what I mean … I don't know."

Mitchell Moss, the New York University professor and longtime municipal politics savant (and occasional adviser to Mayor Mike Bloomberg), paused when I asked him the question and delivered almost the exact same answer: "That's a very interesting question." Moss sensed that of the four issues mentioned above, immigration was the one Giuliani believed in more than the others. Indeed, his position was one that many Democrats, let alone Republicans, would have trouble with: He prevented city employees from contacting the federal government when they turned up immigrants with no legal documentation, and he fought for his position in federal court.

That's two veteran Rudy-watchers, neither of whom can say for sure that he meant it. I'm a third, and I can say it more bluntly: He did what he needed to do to attain and maintain power.
(Photo: Chip Somodevilla/Getty.)