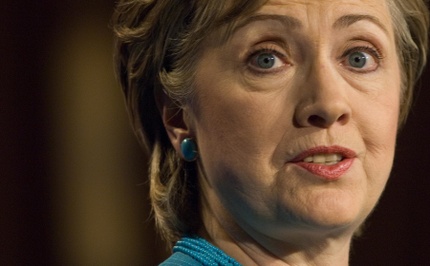 Yes, her first quarter is big. But she's the obvious front-runner, her husband is the last Democratic president and he's fundraising for her as if he's trying to settle another sexual harassment suit. Besides, the headline $36 million, as Hotline's Marc Ambinder reports, is only $26 million. Moreover, much of that might have come from early big donors, who are running out fast. There's another shoe to fall as well:
Some Clinton supporters will crap bricks when they learn that Sen. Barack Obama raised more than $21 million dollars -- maybe more. Obama's spokesman, Robert Gibbs, declined to confirm that fact, but other Dem fundraisers who talk regularly with Obama's fundraisers say that Obama's sum will come close to Clinton's sum -- at least for the money raised into primary accounts.

Others will worry that $26M is as good as it gets for Clinton, especially since high dollar fundraising tends to drop off after the first quarter. For the rest of the year, Clinton will rely more and more on aggressive and costly direct mail, low dollar events, and internet appeals.
When Clinton is asking Drudge to help her, you know she's a little rattled. Marc has the clincher questions:
How much of HRC's money came from major donors? (Answer: about $20M) Are there big donors left to tap? Did her internet fundraising bear fruit? How will this be spun internally? Does Bill Clinton think this number is good?
I wonder.
(Photo: Mannie Garcia/Getty.)