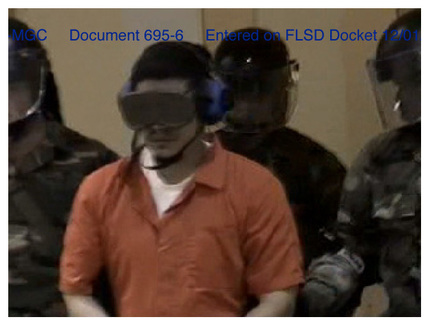 "I'm not sure that any of us know what happened at the brig, but I know that something there put the fear into Mr. Padilla. Mr. Padilla is an anxiety-ridden, broken individual who is incapacitated by that anxiety," -
Patricia Zapf
, a forensic psychologist who examined U.S. citizen, Jose Padilla, detained for years in solitary confinement with no charges brought against him.
We still don't know for sure what was done to Padilla. And there is debate in the court about whether he is mentally fit to stand trial. We found out one solid fact:
A senior official from the naval brig in Charleston, S.C., testified on Tuesday in federal court here that he had twice observed Mr. Padilla weeping in the electronically monitored cell where the military detained him for three years and eight months. The brig's technical director, Sanford E. Seymour, also said that Mr. Padilla, an American citizen who was designated an enemy combatant in 2002, sometimes slept on a steel bunk without a mattress, that the windows in his 80-square-foot cell were blackened and that brig employees covered up their nametags around him.
Prosecutors wanted to bring into evidence an al Qaeda manual, coaching prisoners to resist interrogation, although they had no evidence that Padilla had read or knew of the manual. The Judge refused. Then this sentence:
In declining to admit the manual into evidence, she added that the manual would have converted the competency hearing into a debate over whether the defendant had been tortured in the brig.
By the government, that is. This, we should remember, is an open question in today's America.